Profile of
PROF. (DR.) SHAHID AKHTER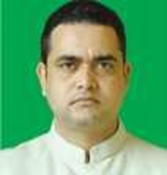 Member
National Commission for Minority Educational Institutions Government of India
Gate No.4, 1st Floor , Jeevan Tara Building, 5 Sansad Marg, Patel Chowk , New Delhi-01 Phone Number : 01123367757 E-Mail : sakhter.ncmei@gov.in Website: www.ncmei.gov.in
Dr.Akhter has served his positions with dignity and honour, leaving an emphatic impression among all those with whom he had interacted.
It is his constant endeavour to provide valuable inputs in the overall development of the institution he adorned. The varied responsibilities that he has been bestowed which include:
• Chairman of Jharkhand State Minorities Commission, Govt. of Jharkhand with status equivalent to Cabinet Minister.
• Vice Chairman, National Council for Promotion of Urdu Language , Ministry of Education , Government of India.
• Professor, Department of Management Studies, Jamia Millia Islamia University, New Delhi
• Court Member (Visitor, President of India Nominee) of Aligarh Muslim University, Aligarh
• Member, Project Approval Board (PAB) for Scheme for Providing Education to Madarasas / Minorities, Ministry of Education , Government of India .
• Chancellor's Nominee for Member, Board of Governors of Jharkhand Rai University .
• Court Member (Visitor, President of India Nominee) Indira Gandhi Tribal University, Amarkantak, M.P.
• Joint Secretary , Delhi Education Society (Regd.) , New Delhi
• Senior Advisor, University Placement Cell , Jamia Millia Islamia
• UGC Nominee, Governing Body of New Arts , Commerce and Science College , Ahmednagar , Maharashtra .
• Member , UGC Expert Committee , Open and Distance Learning Programs and Online Programs .
• Member, Institutional Research Ethical Committee, Jamia Millia Islamia .
• Member , Board of Studies of the Department of Psychology , Jamia Millia Islamia ,New Delhi
• Member , Board of Management of the Centre for North East Studies and policy Research , Jamia Millia Islamia , New Delhi
• Member, Academic Council , Jamia Hamdard , New Delhi
• Member, Standing Committee of the Academic Senate, Dr.Abdul haq University, Govt. of A.P.
• Member, Committee of Studies of the Faculty of Law , Jamia Millia Islamia , New Delhi
• Member , Institutional Ethical Committee of Faculty of Social Sciences , JMI , New Delhi
• Chairman , Finance Committee , NCPUL , Ministry of Education , Govt. of India , New Delhi
• Member, Academic advisory Committee of the UGC-Human Resource Development Centre, Jamia Millia Islamia, NewDelhi.
Dr.Akhter passed his Matriculation from Bihar School Examination Board, Patna in the year 1991 with distinction. He repeated the same feat of distinction in 1993 for his Intermediate Examinations from Bihar Intermediate Education Council, Patna. He then went on to pursue a degree in Chemistry in the year 1997 from Aligarh Muslim University, Aligarh, UP. His keen interest in exploring varied fields of education then led him to pursue a Masters in Business Administration (MBA) with specialization in Marketing in the year 2000 from Ranchi University, Ranchi, where he bagged the second topper in university. He further spread his wings to a new domain of knowledge when he achieved an LL.B degree in the year 2003 from Chotanagpur Law College under the Ranchi University. His final feather in the cap came in the form of Ph.D from the University Department of Commerce and Business Management, Ranchi University, based on his research paper entitled: "Problems and Prospects of Advertising in a Tribal Region – A Case Study of Jharkhand".
It is no wonder that Dr. Akhter has offered the privilege into his insightful knowledge and vast experience through a series of books and publications. He has authored several books which include: Grievance Management (2018), Brand Management (2018), Fundamental Digital Marketing (2019), Advertising Management (2011)). This apart, his experience-rich views and ideas have been published as chapter in books and academic articles in several professional international journal of repute.
Dr. Shahid Akhter's ideas and in-depth in understanding of different subjects is indeed a learning process for others. This is why more than 50 international and national seminars and workshops have been blessed by his august presence.
For his exemplary contribution in different fields, Dr. Shahid has been honoured with several honours and accolades. So far, he has received more than 50 honours and awards of distinction
– both national and international.
His eminence has placed him as a member of various reputable committees and positions involving education/academic, social, sports, celebrations. Some of his prominent memberships include being a member of Alumni Affairs Committee of Aligarh Muslim University; Life Member, Jharkhand State Cricket Association; Member
, Managing Committee of Anglo Arabic Model School, Ajmeri Gate, New Delhi ; Life Member , India Islamic Culture Centre , New Delhi, Life member of Indian Commerce Association and Indian Journal of commerce; member of Golf club , Cockerel Army cantonment , Depatoli , Ranchi and so on.
Dr. Shahid Akhter has been a role model for the youth on how they may channelize their knowledge in the right direction and bring accolades for themselves as well as influence others to build their lives in a better way.